About
History of The Miracle League of Miami Dade
The first Miracle League facility was built outside of Atlanta, Georgia in 2000.
Today, there are over 265 Miracle League fields in the US and 6 more internationally.  In 2009, our founders, Keith Reilly and Karl Sturge, offered special accommodations to a special needs child to play ball in our partner league, Howard Palmetto. They saw what a positive impact it had on him, his family, his teammates and the community. From that moment, they decided that every child deserves the chance to play baseball, and they committed to making that happen.
In May of 2010 the Miracle League of Miami Dade became the 236th. We have an Executive Board of passionate, philanthropic members of the Miami Dade community and amazing volunteers who are putting in countless hours to make this Miracle League field a reality for our children.
For the past six years the Miracle League of Miami Dade has been planning, preparing and fund raising to construct the Miracle League of Miami Dade Ballpark within Miami Dade County.
This project will provide an outdoor ballpark complex with a custom designed synthetic turf baseball field for children with physical and mental challenges in Miami Dade County. Located at Tamiami Park in Miami, this facility will provide league access to over 69,000 special needs children and young adults in Miami Dade County from Homestead to North Miami.
Our official groundbreaking took place on Saturday, August 13, 2016 at 1:00pm. designating field #9 at Tamiami Park,  as our new Miracle League of Miami Dade home!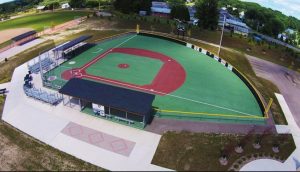 *Our field of Dreams – Set to open in Spring, 2017 at Tamiami Park
                ¨ Every child deserves a chance to play baseball ¨