The "Buddy" System
The "Buddy" System
Make a New Friend. Gain a New Perspective.
One of the most important parts of our league is the "Buddy" system, pairing each player with a volunteer helper. Buddies can be fellow schoolmates, parents, college or high school students, athletes, business leaders, Scouts, or any individual or group (12 years and older) who wishes to volunteer their time to give a child the gift of baseball. This is a wonderful opportunity to spend some time on the field helping a player maximize the joy of their experience. Helping these kids will warm your heart and give you a new perspective on life.
Goals for The Miracle League of Miami Dade "Buddies" are simple:
To assist the player according to their needs.
To protect the player at all times.
To allow the player as much freedom as possible to play.
To have fun.
IMPORTANT – Volunteers 18 and over will need to go through a background check, https://opportunities.averity.com/APAYMLMD Before you do the background check, you need to contact the The Miracle League of Miami Dade to become a volunteer.

Become a buddy and you will be amazed by how much you are needed and cherished by the kids and their families. We promise you will witness a Miracle and meet a new friend for life! For more information on the "Buddy" system please contact Susan Sirota at ssirota@mlomd.org
CLICK ON THE LOGO to view the "MIRACLE LEAGUEBUDDIES VIDEO" from our friends at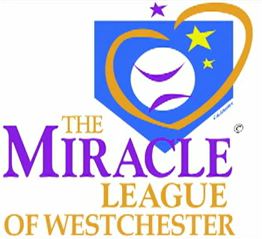 the Miracle League of Westchester, NY